Warren Gatland has called on beleaguered Wales to show their mettle as they bid to snap out of the rut which has seen them crash to heavy defeats in their opening two Guinness Six Nations matches.
The head coach admitted his team appear to be short of confidence after they followed up their 34-10 loss at home to Ireland with a 35-7 blitzing away to Scotland on Saturday.
Gatland conceded Wales face a test of character over the next fortnight as they attempt to spark an upturn in their next match against England in Cardiff.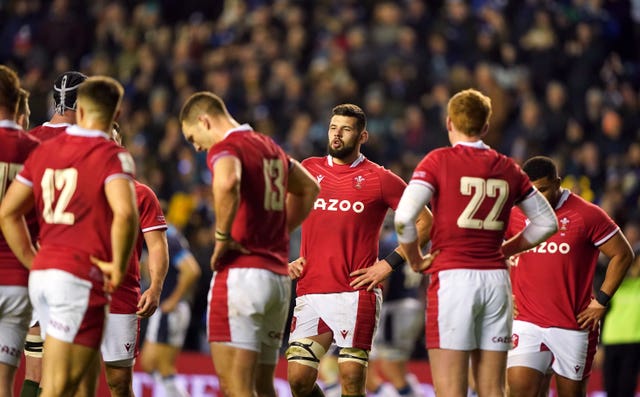 "Possibly," he said, when asked if confidence was an issue. "We talk about winning becoming a habit but so does losing as well. It is just about getting through that.
"You need to keep creating chances and believing you can finish them. You need to be vocal, you need to be communicating from the outside in, and we were probably a little quiet on a few occasions and that's probably down to a little bit of a lack of confidence.
"We're in a bit of a hole at the moment, and it is about how we fight our way out of that with the development of some of the younger players in the squad and giving them opportunities.
"It is about being tight as a group, but also being honest and critical of the things we know we can fix. We've just got to do it pretty quickly.
"We need to get back on the horse and be pretty tough on ourselves as we prepare for the next game."
Poor discipline and a lack of ruthlessness in attack were among Gatland's main gripes after Wales suffered their biggest-ever defeat against Scotland.
He is confident he will be able to iron out the main problems in time for the World Cup in the autumn but admits the bigger test is getting things sorted for the remainder of the Six Nations.
"I think the time together in terms of preparation for the World Cup will take care of a lot of that stuff but the more urgent issue is fixing things at the moment that are being costly for us," he said.
"I don't think they're hard fixes, I just think it's about making sure we're mentally switched on and that we're more clinical from an attack perspective, and when we come under some pressure, we trust ourselves, trust each other and trust the systems, and we're not caught out giving unforced penalties or doubling up on errors, which we were guilty of last week and we were guilty of again this week."
Saturday's match was only the second time Gatland – who previously coached Wales between 2007 and 2019 – has lost to Scotland in 14 matches.
"They are definitely a team playing with confidence," he said. "The thing about this competition is that it's about creating momentum.
"I thought Scotland defended exceptionally well, they played with good width to create opportunities and were able to finish those opportunities, so that's a side which is playing with some self-belief and confidence.
"It is probably the strongest Scotland side I have seen in terms of strength in depth for a long time. They have good balance at the moment and they are playing with that self-belief."