Wales international Bradley Davies believes player strike action would be the "last option" amid an ongoing contracts freeze in Welsh rugby.
It is understood that a meeting will take place during the next week between Welsh Rugby Players' Association officials and players.
Players going on strike is thought to be one possibility, and comes as Wales continue preparations for their Guinness Six Nations clash with England in Cardiff on Saturday week.
The situation has been magnified due to recruitment being on hold and next season's playing budgets not yet being finalised for Wales' four professional regions of Cardiff, Ospreys, Dragons and Scarlets.
A new financial agreement between the regions and the Welsh Rugby Union has still to be confirmed in writing, sparking concern that a sizeable number of players whose contracts expire at the end of this season will head away from Wales, with a huge sense of uncertainty currently engulfing them and their families.
Ospreys lock Davies, who won the last of his 66 caps in 2019 and was part of three World Cup campaigns, said: "It (strike action) is obviously an option in any job.
"But none of the boys want that. They don't want to strike. Boys want Welsh rugby to get better again. They want this to stop and for us to move forward.
"Boys playing international and regional rugby don't know if they've got a job in four months, it is always going to be difficult."
Asked if he would go on strike, Davies added: "I wouldn't want to. But if that was the only thing that had to be done, then I guess I would have to.
"Let's all get around a table, let's speak, let's make Welsh rugby good again. We are not far off it.
"If we had to strike and that was the decision everyone made, then fair enough. But it is the last, last option.
"It is easy for someone to say, 'don't worry about it', but you do worry about it. It's your job. You have families, mortgages, the cost of living.
"People are earning big money in rugby, of course they are, the same in any sport. But the average wage in rugby, especially Welsh rugby, is nowhere near the other teams.
"I hope it doesn't deter people from playing rugby – that is my biggest worry. Why would you want to play in Welsh rugby at the moment?
"We are affecting our product by fighting this civil war or whatever it's called.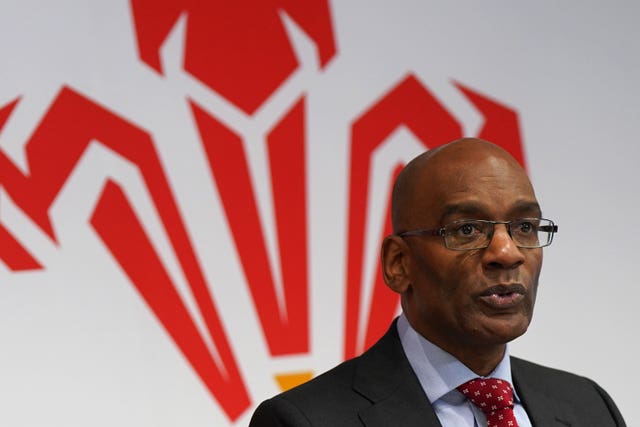 "Boys accept pay cuts, boys know the money is going down, but that is not what they are fighting for. They are just fighting for a seat at the table to speak and get their voice across."
Negotiations on the future of the professional game in Wales are handled by the Professional Rugby Board, which comprises representatives from each of the regions, acting WRU chief executive Nigel Walker, WRU finance director Tim Moss and two independent members, including chair Malcolm Wall.
In the PRB's latest statement issued just before the start of this season's Six Nations, Wall said that negotiations were at an advanced stage, with verbal agreement reached and a heads of terms document signed on a new six-year deal for the professional game.
He added that signing the heads of terms agreement had enabled Wales' professional sides to begin contract negotiations with players on a conditional basis, giving players details of their individual offer.
Ospreys head coach Toby Booth has worked on both sides of the Severn Bridge, holding senior roles at London Irish and Bath before moving to Swansea in 2020.
"It is not just players, there are staff involved in this as well," Booth said.
"Uncertainty provides so many distractions and so much anxiety that you wouldn't be human if it didn't affect you.
"If you don't know what your budget status is or your contract status is, it's very difficult to move forward as an organisation.
"At the moment, there is a lot of uncertainty kicking around. Agreements aren't in place, contracts haven't been agreed. We are at the business end of the season and there is work that needs to be done.
"I think there has to be greater joined-up thinking between all stakeholders and all parties. I include the players and coaches and regions in that.
"At some point, the definition of insanity has to mean surely we have got to a point where we have to realise what has gone on before hasn't worked well enough and it is time to change.
"There are so many unknowns and different agendas, which makes it a brutal minefield to get through, for sure."
The WRU said that acting chief executive Walker met with senior members of the Wales squad on Wednesday "to further clarify the current position".
Walker said: "We have absolute empathy with the professional players in Wales.
"We know we are not in an ideal situation, but it is incredibly important for the whole game in Wales for us to get this next step right."
PRB chair Wall, meanwhile, added: "The new agreement offers a complete funding package to the professional game in Wales, but it does come with financial limitations which will directly affect salary negotiations.
"The cold facts are that the WRU and clubs have been paying salaries that their businesses cannot afford, so the new agreement establishes a new framework for contract negotiations.
"There is a stipulation that all current contracts will be honoured, but these businesses must return to a sustainable footing in order for the success we all crave to follow.
"The average salary of a Welsh professional rugby player under the new framework will be around £100k-per-year."