Rob Page suggested Wales' Euro 2024 qualifying defeat to Armenia was a necessary "slap" as he surveyed the wreckage of one of the most humiliating losses in the nation's football history.
Armenia ran out shock 4-2 winners in Cardiff, despite being ranked 97th in the world and 71 places lower than Wales.
Page's side – who took four points from their March games away to Croatia and at home to Latvia – would have topped Group D with victory in Cardiff.
Instead a first European Championship qualifying defeat at home since 2011 dropped them to third in the group as Turkey won 3-2 in Latvia. Wales' next qualifier is away to Turkey in Samsun on Monday.
"They fell well short of the standards they have set before," said Page. "I didn't see that coming. It has really shocked me.
"Everything happens for a reason, perhaps it's the slap we need, a little bit of a reality check.
"Everybody is starry-eyed and getting carried away. Yes, we had a great start in March but there are no bad teams now anymore.
"Look at what Turkey had to do in the 96th minute against Latvia."
Daniel James' sixth international goal fired Wales into an early lead, but Armenia exploited some dreadful home defending to lead by the half-hour mark through Lucas Zelarayan and Grant-Leon Ranos.
Armenia extended their lead through Ranos before Harry Wilson reduced the deficit with 18 minutes to play.
Ranos hit the post before Zelarayan's second killed off Wales and home misery was completed 12 minutes from time when Kieffer Moore was sent off for a kick on goalkeeper Ognjen Chancharevich.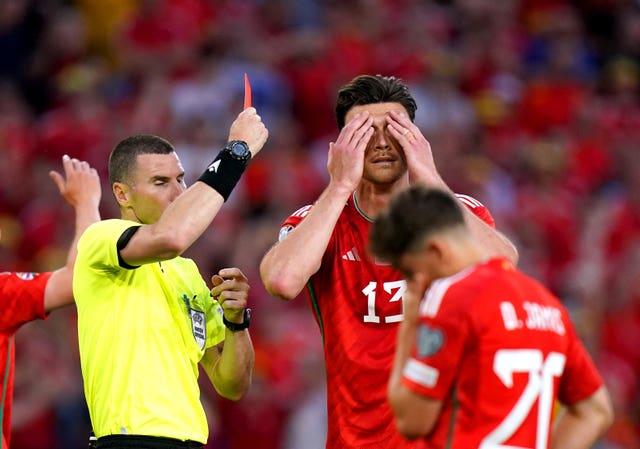 Page confirmed that Wales would not appeal Moore's red card and the Bournemouth striker will now miss the Turkey game.
"I felt such in a positive place before the game, full of confidence and I didn't see that coming," Page said.
"That's really shocked me as much as anyone else.
"The fundamentals of what we stand for, what we represent, the hard work…we were too expansive and that's not what we're all about.
"We're hard-working and we pride ourselves in doing the not-so-pretty side of it.
"They taught us a lesson in that, how to do the not-so-pretty side of the game."
Victory was especially sweet for Armenia manager Oleksandr Petrakov, who was in charge of Ukraine for their World Cup play-off final defeat in Cardiff exactly 12 months ago.
Petrakov said: "We have a game in Latvia in three days so if we go on celebrating, this victory will not mean anything.
"It's more or less the same Wales team apart from Gareth Bale so I can not under-estimate the valuation of my team.
"My only objective as Armenia coach is to is to qualify for a major tournament."